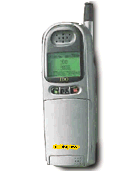 FUJITSU PDC PHONE:
This is a small, compact, handsome little phone. Its style makes it user-friendly and easy to use.
RENTAL INCLUDES:
2 high-capacity batteries, overnight recharger, carrying case, cigarette lighter adapter.
Each battery has 85 minutes of talk time, or 130 minutes of standby time.
BASIC FEATURES:
The Fujitsu 503G Flip Phone operates on the unique Japanese PDC standard. Please note - our delivery agent may substitute a comparable phone. But, rest assured, the phone that you receive is one that will work in Japan. Regular U.S. phones or European GSM phones will not work in Japan.

- Illuminated keypad and display
- Easy, one-touch dialing
- Vibrating feature
- Lightweight - only 115g
- 85 minutes of talktime
- 130 minutes of standby time
- Toggle between English and Japanese
- No SIM card required, pre-programmed with local Japanese
number.

---
Press your browser's 'back' button to return to the previous screen.