Selecting the Phone Type:
Below are the phone options World Roam offers. Make a note of your choice, you will be asked for it on the order form. For more details on each phone, click the desired phone model on your left.

Ordering Process
Step 1: Service Plan
Step 2: Phone Type
Step 3: Rental Summary


Step 4: go directly to reserving your phone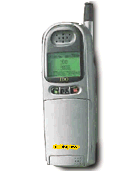 Fujitsu PDC Phone:
The Fujistsu PDC Phone is unique to Japan, and cannot roam outside of Japan. Please note - our delivery agent may substitute a comparable phone. But, rest assured, the phone that you receive is one that will work in Japan. Regular U.S. phones or European GSM phones will not work in Japan.


RENTAL INCLUDES:
2 fully-charged, high-capacity batteries, overnight recharger, carrying case, cigarette lighter adapter.
Each battery has 85 minutes of talk time, or 130 minutes of standby time.
Very light weight - only 115 grams.
BASIC FEATURES:

- Vibrating feature
- Battery charger
- International outlet adapter
- Belt clip and phone kit carry case
- Simplified user instructions

Fujitsu PDC Phone Rental
Weekly
Rates
$ 39.00
---